"Noise-induced hearing loss is completely preventable, but once it occurs, it is irreversible and permanent. That is why it is so important to take proactive steps to protect yourself."
–Paul Farrell, Associate Director, Audiology Professional Practices at The American Speech-Language-Hearing Association (ASHA)
Noise-Levels of Some Common Everyday Activities (in Decibels)
If you're unsure of the noise levels, you can refer to the below chart to find the activity you're most exposed to.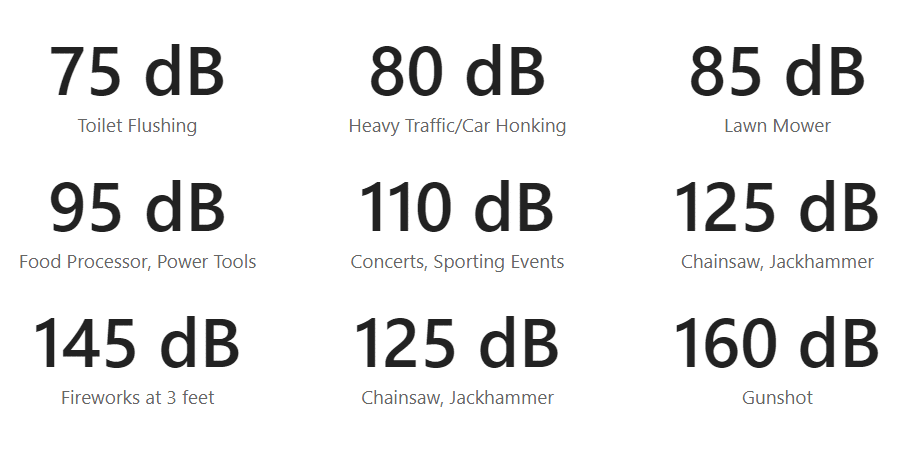 Riding a motorcycle is a very noisy endeavor and it doesn't matter if you're wearing ear plugs and the quietest helmet you can find.
Noise levels over 85 dB or so can damage hearing, and a motorcycle idles around 80 dB.
Medical authorities tell us that 15 minutes exposed to sound levels over 95dB can do irreparable damage to your hearing. The long-term result can be tinnitus or ringing in the ears.
High levels of noise are proven to be very stressful and can cause a loss of concentration.
In our opinion, motorcycle helmets will not always reduce noise levels significantly, and, in fact, they may actually cause higher levels of noise in more harmful frequencies than might be expected.
Riding without a helmet is definitely not an answer, both for reasons of safety and because of the extreme volume of noise when riding without a helmet.
Some claim that riding without a helmet allows the rider to hear other vehicles more clearly, but this is usually not the case when riding at higher speeds without a helmet.
There are many variables that can cause helmet noise, including helmet design, motorcycle design, weather (i.e., cross winds), turbulence and also the configuration of the motorcycle's fairing or windscreen.
Some helmets are intrinsically quieter than others, either due to their design, the liner, the aerodynamics or how the helmet fits the rider's head.
We believe that high quality, correctly fitted earplugs are essential for motorcycle riding. And strongly suggest wearing high quality, correctly fitted earplugs whenever you ride a motorcycle. This can help minimize the risk of hearing loss, reduce stress and make the riding experience more pleasant.
Another type of noise that also needs attention during riding is communication noise.
Most people have the need to use Bluetooth intercom or headsets when riding, the noise generated during the riding communication is very loud. Therefore, it is necessary to eliminate these noises as much as possible to ensure a clear call.
In EJEAS Q7, CVC noise reduction technology is adopted. Through the built-in noise canceling software and microphone, various types of reverberation noise are suppressed, so that the other party can hear your voice more clearly during the call.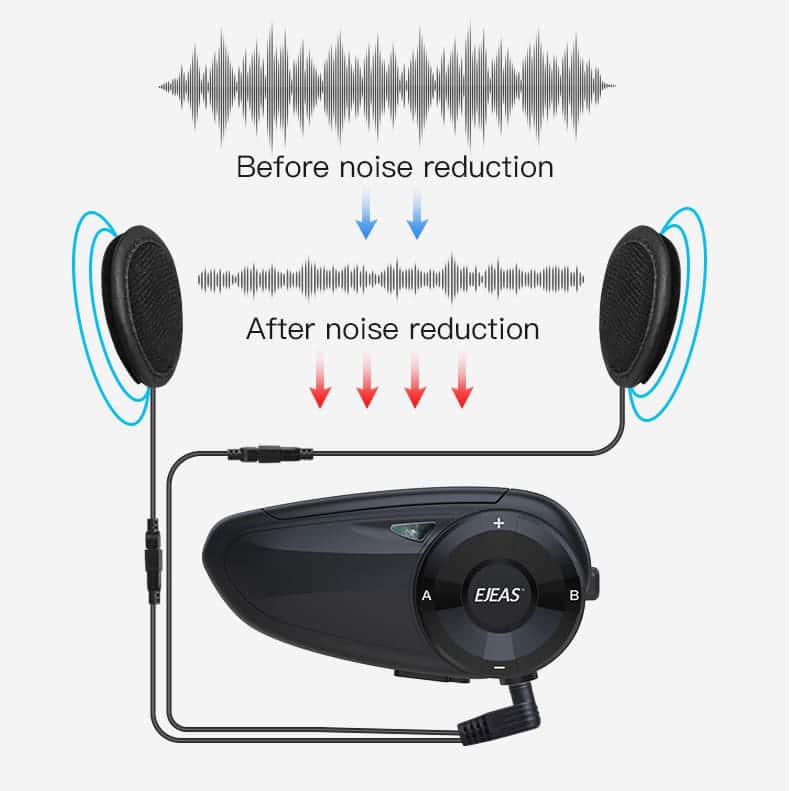 CVC (clearvoicecapture) noise reduction technology is actually a call noise reduction technology proprietary to Qualcomm's solution products. Its working principle is that it can capture environmental noise during a call, so that the other party can listen to clear voice information. In other words, using a Bluetooth headset with CVC function to make a call or voice, the other party can hear it more clearly. This function is especially suitable for friends who often go out to make calls or ride bicycles with a lot of noise.
Meanwhile, if you have issues with ringing in the ears after a long ride, we suggest you wear earplugs to reduce harmful wind noise.